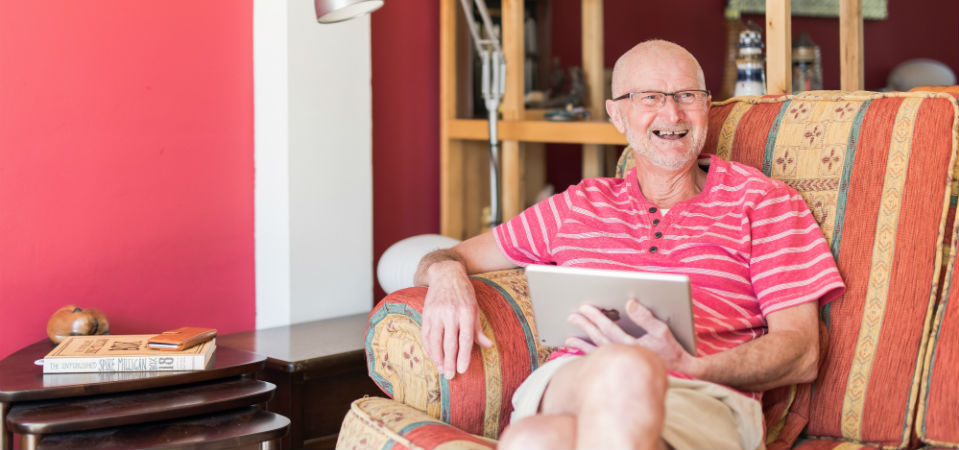 Superfast broadband allows a Grandfather to watch his grandchildren in Norway grow up
Jim Young, a 68 year old retired research technician from Swansea, is experiencing first-hand how Superfast Broadband can enable you to keep in touch with relatives living abroad.
With one son living in Norway and the other living in Bristol, Jim and his wife Sue rely on a superfast broadband connection to ensure they remain part of both their children and grandchildren's lives.
Jim said "Being able to speak to my grandchildren in Norway and Bristol via FaceTime several times a week without the connection buffering is just fantastic. The picture is so sharp that it feels like we're in the room with them. 
"I miss them all dearly but the brilliant broadband allows us to see them clearly at the click of a button and watch them all grow up. We get to share events, occasions and celebrations together, despite the distance which means we never miss out on anything."
"For instance, one of our granddaughters is a budding actress and regularly posts on YouTube and Instagram Live and the superfast connection enable us to watch her videos as she streams them. Little things like this help us to engage with them on a regular basis and be part of their day to day lives. This is so important to both myself and my wife as given the distance we simply can't see them as often as we'd like, but instead we get to create memories together using FaceTime and Skype."
"In addition to allowing me to stay in touch with my children and grandchildren on a regular basis, the superfast connection is also central to enabling me to operate and maintain my photography and poetry blogs."
Since retiring Jim has established two blogs, one which focuses on photography from Jim's day to day life and the other his thirst for poetry and writing. Both blogs are a labour of love but the superfast broadband connection enables Jim to upload images, audio clips and video instantly and share his passions with people across the world.
Jim continued "Conventional broadband speeds simply wouldn't be sufficient for me to pursue these hobbies or allow me to stay in touch with family with ease."