Leighton from Abergavenny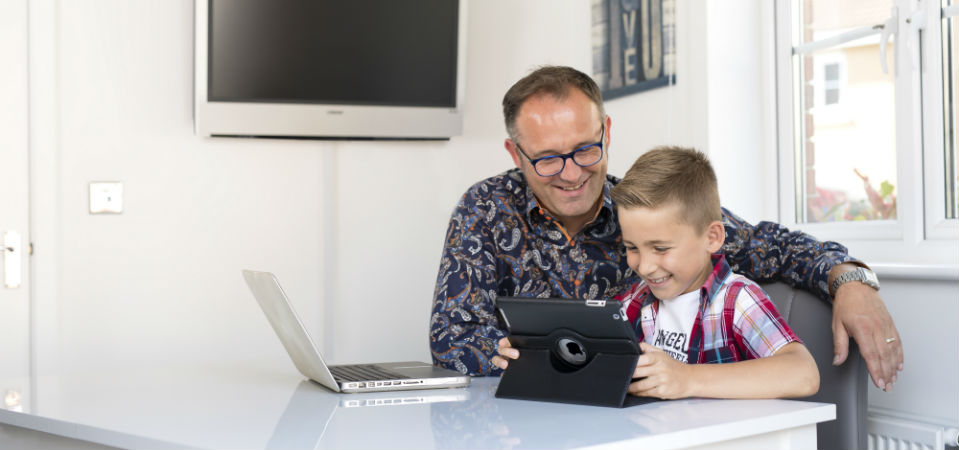 Superfast broadband allows me the flexibility to work from home and see my family
With a photography and virtual tours videography business to run and conventional broadband speeds restricting everything from streaming TV shows to internet shopping, Leighton made the decision to switch to superfast as soon as it became available.
Leighton said: "As a family we seem to be increasingly relying on the internet for every aspect of our lives from doing our grocery shopping and banking to streaming TV shows and films so having a speedy connection just makes life easier and simpler. 
"Rather than waiting ages for a website to load everything can be done at the click of a button and mundane tasks like grocery shopping takes minutes rather than hours.
"My son is also becoming increasingly obsessed with watching anything from music videos to football and Minecraft on YouTube so having a superfast connection means that he can happily watch them without getting frustrated by constant buffering. We also download movies to our ipad for long car journeys at the touch of a button meaning Charlie is kept entertained in the car for hours.
"In addition to superfast broadband helping to take the stress out of shopping and making watching films and boxsets more enjoyable, I find it essential to the day to day running of my photography and virtual tour videography business, 3D-PI. 
"The superfast connection allows me to download huge video files extremely quickly as well as edit and upload them to the cloud instantly in order to share them with clients. I'm often on a deadline and a client needs me to turn video edits around very quickly so the superfast connection makes this possible.
"I also occasionally Skype clients to get feedback and discuss projects and the superfast connection means that the calls are sharp and there is no embarrassing delay meaning they can be quick and easy. 
"I would definitely recommend the service to anyone who can get it as it literally makes a difference to so many aspects of your life."