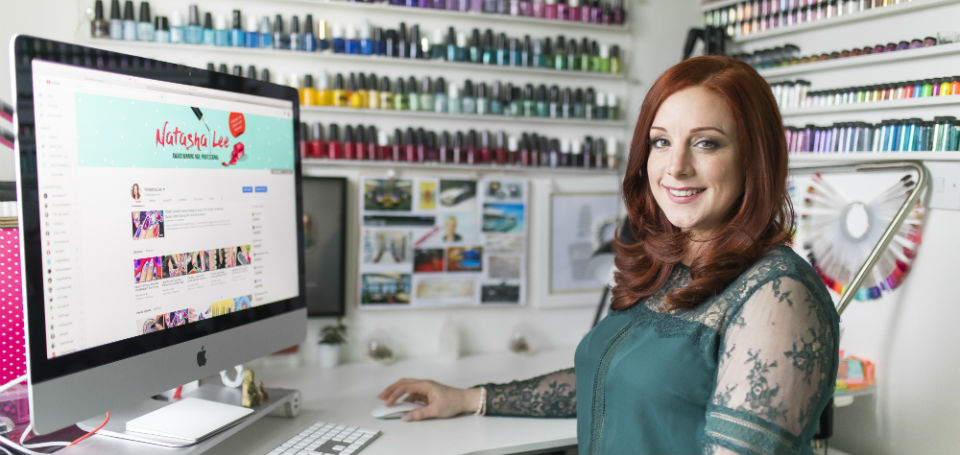 Superfast broadband allowed me to give up my day job and pursue a career in vlogging
A mum of three, Natasha Lee an internationally successful beauty vlogger from Mold is reaping the benefits of superfast broadband enabling her to make a success of her career as an international beauty vlogger.
Living in a busy household and with multiple devices all running in unison, Natasha found it impossible to run her YouTube channel successfully with conventional broadband speeds. She found it would take over 14 hours to upload a simple four-minute video and it would often time out before she managed to get it online. She would also have to prevent anyone else in the house from using the internet during that time which made her very unpopular. Once she finally made the switch to superfast broadband as soon as it became available in her area it enabled her to give up her salon in Chester and pursue a career in vlogging.
Natasha said "Before we upgraded to a superfast connection it was virtually impossible to make my passion for beauty vlogging into a full-time job. However, once we made the switch it made such a huge difference. I am now able to upload a ten-minute video in just ten minutes regardless of whether anyone else in the house is using the internet and have been able to carve a successful career out of vlogging.
"I'm able to have seamless skype conversations, meetings and interviews with people in the USA and Australia on a regular basis and everything is just so much quicker, easier and simpler.
"My children and my husband also rely on the internet for streaming TV shows and films, gaming, japing up to date with social media, online shopping and producing, editing or uploading their own videos to YouTube. It's just brilliant that we can all be online at the same time whatever we're doing and nothing is a hassle, it all just happens instantly.
"For me having a superfast connection has been life-changing as it has helped me to not only pursue a successful career in vlogging but also do it from the comfort of my own home and be able to take care of my three children. I would've had to give up on that dream if we hadn't been able to upgrade.
"Anyone who is a mum knows that juggling a career and children can be a challenge but the superfast connection has enabled me to have the best of both worlds. I can work on my video content at any time of the day while also being able to be there for my children as and when they need me. I'd recommend upgrading to anyone as even if you aren't making skype calls or uploading video content it just makes the simple things like online shopping, downloading TV shows and streaming movies a lot simpler, quicker and more enjoyable."