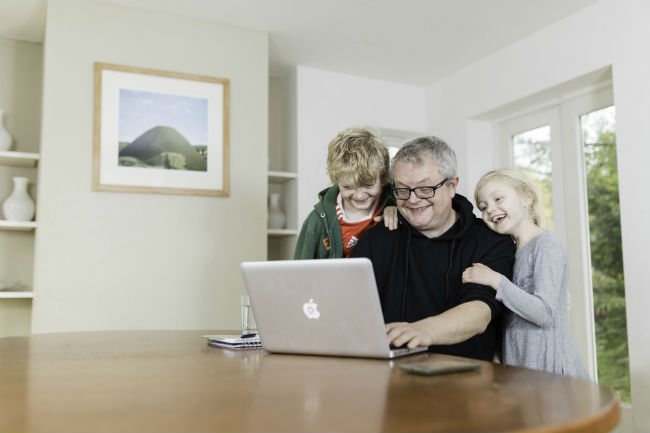 Caernarfon dad credits superfast broadband for improving his business and family life
Paul Sandham from Caernarfon, who runs his own software business and has three children – Finlay (14), Luka (11) and Hannah (7), has seen superfast broadband transform his family's technology-driven lifestyles.
With conventional broadband speeds not fast enough for his family's needs, and his children using the internet daily for homework and leisure as soon as they come home from school, Paul switched to superfast as soon as it became available.
The 50-year-old said: 
"Switching to superfast was a no-brainer for our family because there are so many of us using different devices all at the same time, from my kids doing their homework online, to me working from home. 

"I founded my own mapping software company for smartphones in 2010, which requires me to process huge amounts of data. Before we got superfast, I had to stay at the office late to access files and work on them. Now I can download 150,000 data records to my computer, or run software tests on 10 different devices while I make a cup of tea! Having the freedom to work from home is fantastic and now that I can access the records so quickly, I can do my work at home and at the office.

"We recently had friends from London come to stay who were really shocked at how fast out internet connection was. They thought that living in Wales, we'd have a much poorer connection than central London but it turned out to be the other way around!"

"The faster connection has been great for my kids too, from researching for school projects to watching videos online. My oldest, Finlay, is obsessed with taking videos of his mountain biking and he's recently started uploading drone footage, while Luka has his own YouTube channel to upload silly videos he makes with his friends.

"I'm also a bit of an amateur musician and make compilations of songs which I upload to MixCloud. It used to take me about two hours to put just one mix online but now it takes minutes, I still can't quite believe how much quicker everything is."
Why go superfast?
Superfast broadband allows you to communicate and share the things that are most important to you in a quicker and more reliable way.  Whether you're surfing the web, chatting to family on the other side of the world or discovering new places to visit, with a high speed internet connection it's so much better.