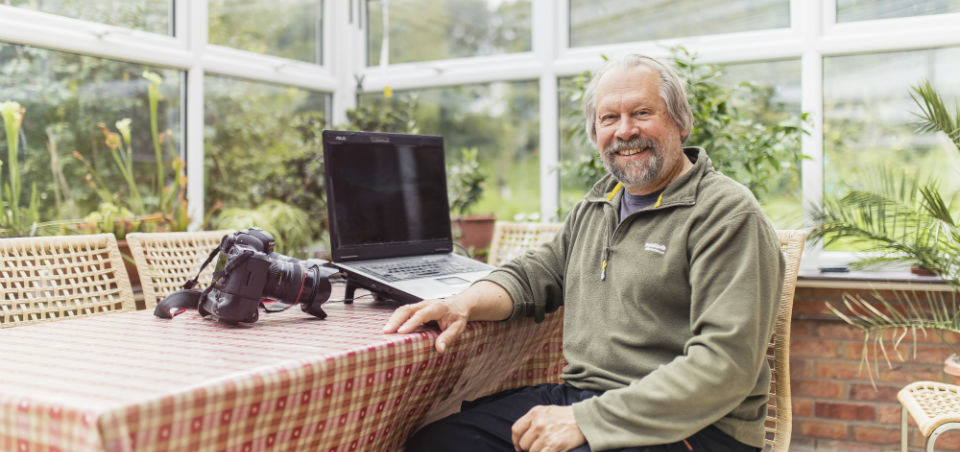 Superfast broadband has enabled me to run my business from home and maintain a work-life balance
Philip Curnow from Aberhafesp near Newtown, who runs Philip Curnow Photography is relying on a superfast internet service to run his business from home and maintain a work-life balance.
Having clients all over Wales and the UK means that the need to send files electronically is essential to running his business, however with his previous connection it would take Philip up to 24 hours to upload and send files whereas now with the superfast connection 30Mb files can be sent within 24 minutes. 
Philip said: "It was becoming increasingly frustrating and stressful that it would take so long to upload and send files to clients. More often that not I would often have to resort to going to my local library or internet café in order to get pictures or videos to my clients on time.
"As soon as superfast broadband became available in our area I made the switch and I certainly haven't looked back. Not only is it imperative to my business and takes the stress and worry out of sending files to clients on time, it has also made a huge difference to other aspects of our lives too.
"My partner Angela has a daughter and grandchildren living in Australia so it's important to her to be able to keep in touch with them on a regular basis. Before we had superfast broadband FaceTime and Skype calls would be virtually impossible as they would constantly break up or stall. Now they are so clear that we could almost be in the same room and can enjoy speaking to them on a regular basis."
Philip continued: "Terrestrial TV is virtually non-existent in Powys so we have to rely on a digital TV service and regularly download or stream TV shows, boxsets or films for evening entertainment. They're so quick to download that by the time we've decided on a programme, selected it for download and boiled the kettle for a cuppa, it's generally fully downloaded and ready to watch.
"As well as relying on the superfast connection for our evening entertainment, it's also really handy for more mundane weekly tasks like banking and grocery shopping as these can be done quickly and easily.
"I've been really impressed with the service we've received from our superfast broadband and how it has taken the stress out of so many aspects of our lives. I'd definitely recommend it to anyone who can access it makes any online tasks quicker, easier, more immediate and generally more enjoyable."