We are addressing network issues on this section of the A55.
Overview
Why we are doing it
The A55 is the main north Wales coastal route and is part of Euroroute E22 Trans-European Transport Network (TEN-T). It is also an important link, via county roads, for local towns and communities and provides a connection with the north-south A470 to south and central Wales.
This section of the A55 was upgraded to a dual carriageway in the late 1960s and does not comply with current highway standards. The section is prone to flooding.
Current progress
We have finished building the new length of county road.
This road will:
be used for agricultural access and farm access
be used as a temporary eastbound route between junction 12 and 13 to while we work on the A55 eastbound road
be an active travel route once the main works are done, so it will be safer to walk and cycle
We have built the Wig underpass across the new length of county road. This will make it easier and safer to cross the road.
We have also put in culverts to make it easier for water to flow under the county road.
We have diverted the eastbound traffic on the A55 onto part of the new length of the county road. This is to maintain two lanes of eastbound traffic on the A55.
Timetable
Publication of draft orders: autumn 2016
Enabling works contract commencement: late 2018
Completion of enabling works contract: spring 2019
Start of main works construction: autumn 2020
Completion of new section of trunk road: spring 2023
Next steps
We started work to improve the eastbound side of the road in autumn 2021 and this work will continue until spring 2023.
What we're doing
We are improving safety along a 2.2km stretch of the A55 by:
removing direct accesses off the A55
removing eight gaps in the central reservation
Gaps in the central reservation allow slow moving vehicles to cross the A55. This poses a risk to road users.
We are replacing these areas with:
combined access road
active travel route between junction 12 and 13
We are improving the road's drainage system to reduce the risk of flooding in the area. Improvements have previously been made through drainage work carried out in 2017.
To minimise disruption, we have completed most works off the A55. This includes construction of the 1.3km combined access and active travel route.
We have secured £20.775 million through the European Regional Development Fund to deliver these improvements.
Image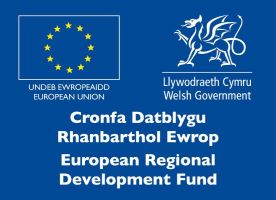 Tai'r Meibion and A55 looking eastbound

Wig underpass and A55 looking westbound

New footpath from Tan Y Allt to Iard Hendre

New county road from A55 junction 12, looking eastbound

New county road, looking eastbound