Learner destinations for further education institutions and school sixth forms for August 2015 to July 2016.
Whilst the measures are still in development, as we continue to work through methodology and data quality issues, we are able to provide a first set of experimental statistics.

This report looks at the destinations of learners (i.e. what a learner moves on to do after a programme of learning), including those undertaking work-based learning. A separate report provides information on learner achievement. These are experimental data and we will undertake further consultation with learning providers on the methodology.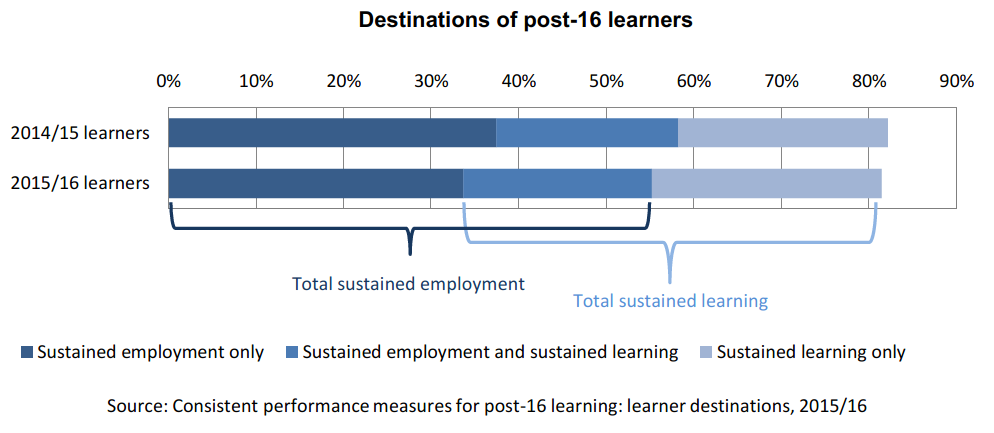 Main points
Of the 116,080 learners finishing a learning programme in 2015/16:
81% had a sustained positive destination into either employment or learning, one percentage point lower than 2014/15
55% were in sustained employment, of which 22% were also in sustained learning
48% were in sustained learning, of which 22% were also in sustained employment.
Post-16 learners are those studying in further education institutions, school sixth forms and in work-based learning (apprenticeships, traineeships and other employability programmes). Note that finishing a learning programme does not necessarily constitute 'a leaver'. For example those completing A-levels will have first completed a programme of AS level study, followed by an A2 programme.
Reports
Consistent performance measures for post-16 learning: learner destinations, academic year 2015 to 2016 (experimental statistics)
, file type: PDF, file size: 716 KB
PDF
If you need a more accessible version of this document please email
digital@gov.wales
. Please tell us the format you need. If you use assistive technology please tell us what this is.
Contact
Jade Bird
Rydym yn croesawu galwadau a gohebiaeth yn Gymraeg / We welcome calls and correspondence in Welsh.
Media
Rydym yn croesawu galwadau yn Gymraeg / We welcome calls in Welsh.