Higher education stories: Elen from Anglesey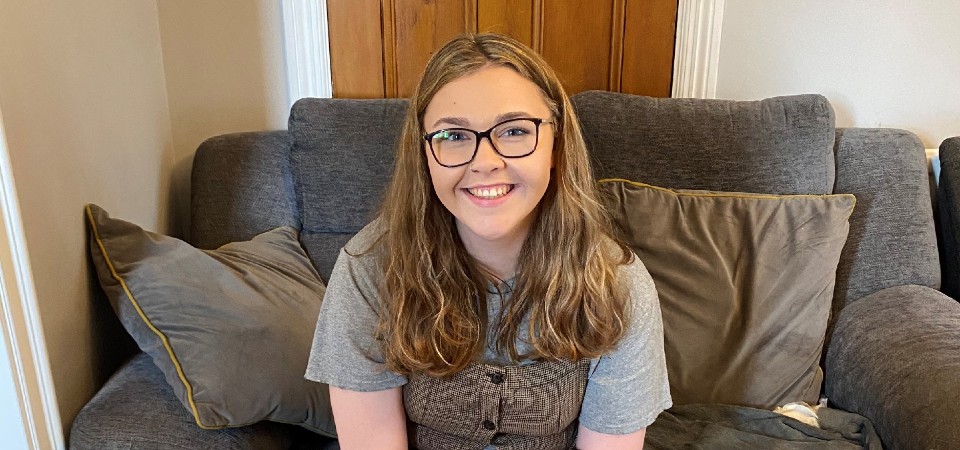 Elen Jones, 20 from Anglesey, is studying for a degree in Welsh and Media to help get her career off to a flying start.
Despite the pandemic, Elen was determined to go to university to get a degree and to experience living away from home.  
Elen says:
"My first year in university hasn't quite been what I was expecting because most of my learning has been online, but I've still managed to have fun and meet new people. Hopefully as I move towards the second year there will be plenty of opportunities to go out more and socialise with more people, but it's definitely been worthwhile so far.

"I'm really passionate about staying in Wales to work in the media industry when I finish. I'd really like to be a journalist or TV presenter. Getting a degree will help me gain the qualification I need to get into the industry, but it's not just about the course, I also wanted to go to university to meet people and expand my options.

"Going to university has given me the chance to live somewhere new, away from where I grew up, which has helped grow my independence and open my eyes to new things."
Elen received a mix of grants and loans from Student Finance Wales to cover her living costs while at university and is comfortable knowing she will only pay the loan back when she is earning above the threshold. Elen says:
"Personally, money didn't affect my decision to go to university. I knew there would be support there to help me while I study.  I had financial support for my living costs which was a £1,000 grant plus a loan which covers my accommodation as well as food, bills and items I need for my course.

"I know I will have to repay the loan when I finish but it's not a worry for me. I'll only be paying it back when I'm earning enough, so once I'm settled in a job I will be able to manage the repayments. Knowing this has helped me enjoy the university experience a whole lot more as I'm not having to think about money. Instead, I'm focused on my course and enjoying the whole experience and I'm really looking forward to achieving my dream of working in the media."
Don't let money get in the way of university
From September 2018, eligible first time undergraduates will get comprehensive support to help fund their day-to-day living costs during term time, regardless of where in the UK they choose to study.