The Hirwaun junction will connect Brecon road, Hirwaun road and the current A465 road, and allow the new A465 dual carriageway to pass below the junction.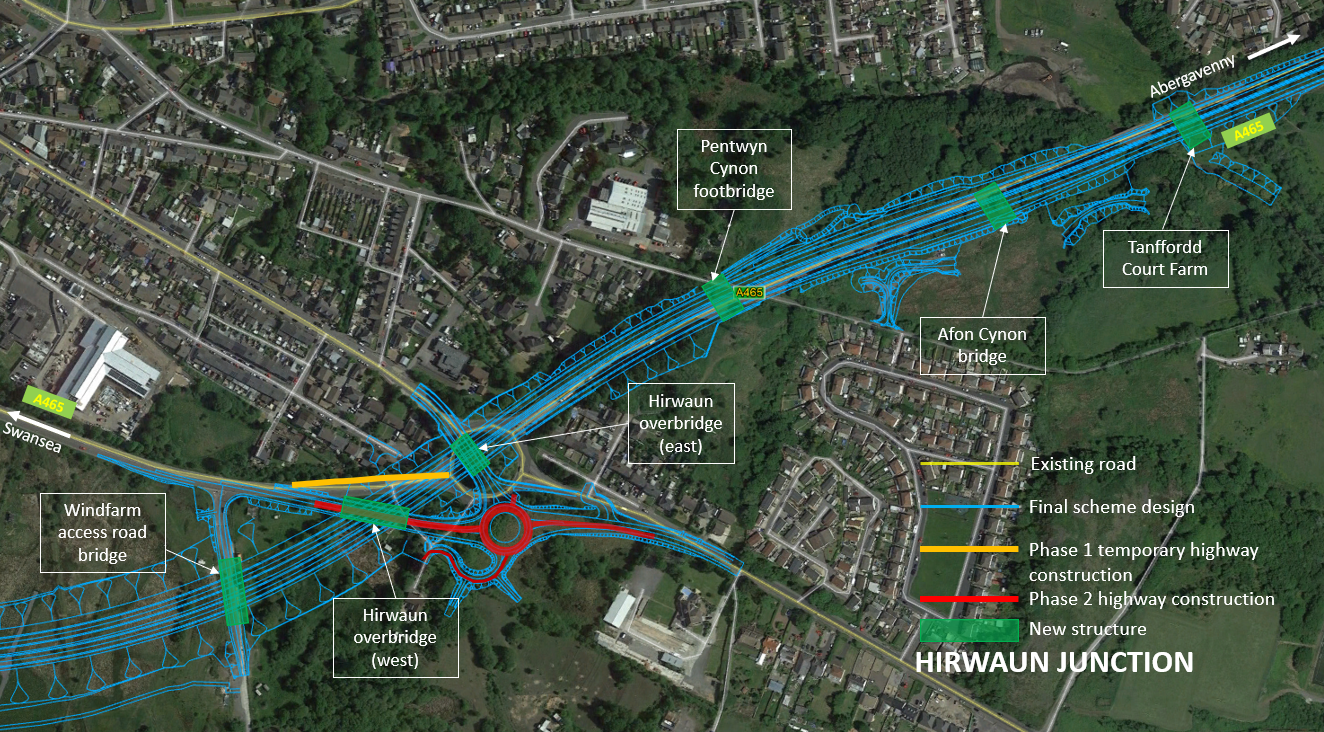 What we're doing
archaeological investigations
demolishing existing properties
laying temporary road
building bridges
installing drainage and culverts
moving utilities
building a roundabout
To build this road, we will cut up to 40 feet (12.5 metres) into the surface.

We will build a bridge built over the A465 to provide access to the Mynydd Bwllfa wind farm.

We will build a roundabout at Trewaun to connect Penywaun and Hirwaun. We will build 2 bridges to connect Brecon road to the A465.
We will build a temporary road to provide space for the new road. There will be no access to the A465 at the new Hirwaun Junction.
Current progress
We have:
cleared vegetation and site to prepare for construction.
undertaken archaeological investigation next to the windfarm access road.
diverted utilities to move services from the construction area.
demolished building within the scheme area.
constructed new Hirwaun West Bridge substructure, erected precast concrete beams for bridge deck construction.
constructed new temporary highway to create space to build the Hirwaun East bridge.
diverted traffic onto temporary roundabout to allow for bridge construction.
installed new drainage culvert under Hirwaun Road.
commenced construction of the Hirwaun East bridge.
temporary road opened on A465 to create space to build Trewaun retaining walls.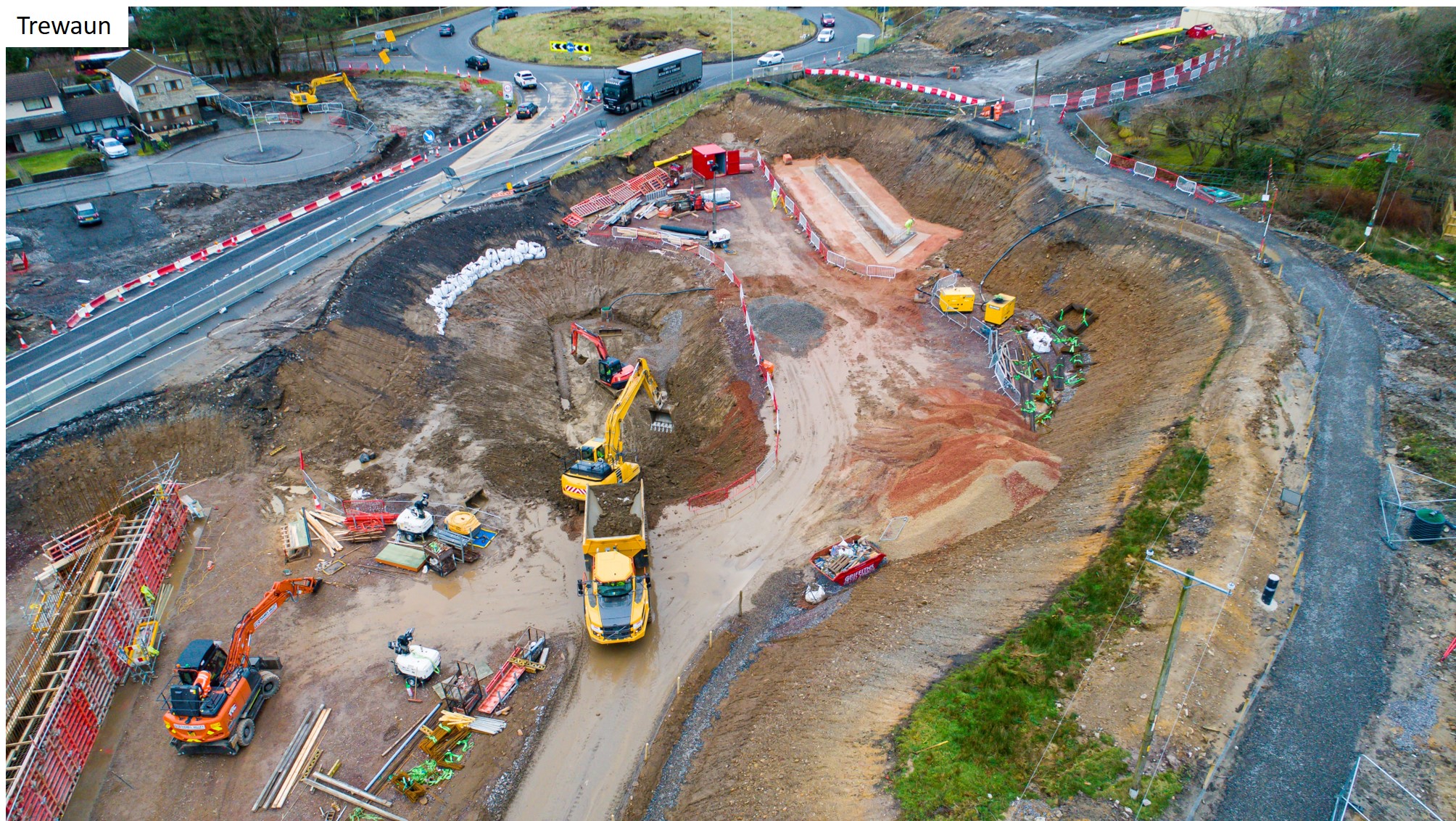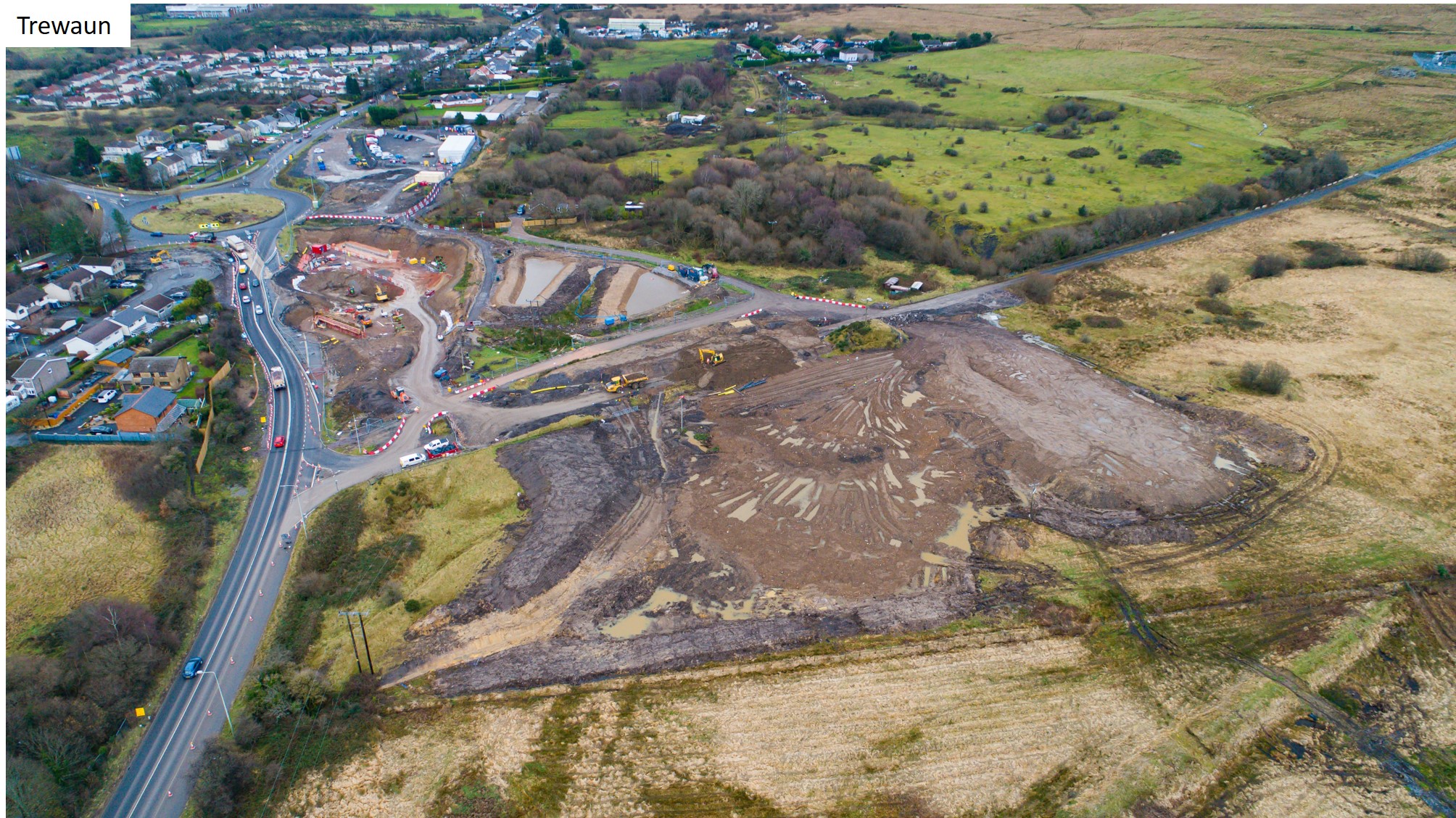 Next steps
constructing a retaining wall next to the houses in Trewaun.
extending the temporary road from Tramway to a new temporary roundabout to be located to the west of the current layout at the Hirwaun (Trewaun) junction.
relocating the temporary roundabout at Hirwaun (Trewaun) to a new location further east at Windfarm Road.
commence construction of new westbound A465 carriageway between Vale of Neath and Hirwaun. 
ongoing work to construct Hirwaun East overbridge that will connect Brecon Road to Hirwaun Road (A4059).