Who should use them and how to interpret your results.
Contents
Lateral flow test (LFTs) are used to identify people with COVID-19.
Each positive case identified can help prevent many more infections.
LFTs are easy to use and give results in 30 minutes.
How lateral flow testing works
Lateral flow is an established technology, adapted to detect proteins that are present when a person has COVID-19. The best-known example of a lateral flow test is the home pregnancy test kit.
The test kit is a hand-held device with an absorbent pad at one end and a reading window at the other. Inside the device is a strip of test paper that changes colour if COVID-19 proteins are present.
How to take the COVID-19 lateral flow test
Watch a short video demonstration of how to take the test.
Video: how to self-test (British Sign Language version)
Live video assistance for people with sight loss is available now. Call 119 to access this service.
There are different types of lateral flow tests. Some use samples from just your nose. Others use samples from your throat and nose. All are proven to be highly effective at detecting people who are infectious with COVID-19.
Use the swab to take a sample from the back of your throat and from your nose, or just from your nose, depending on the type of test you are using. Refer to the instructions in the pack.
Once you have taken the sample, dip the swab into an extraction solution and then onto the lateral flow test's paper pad.
You will see the result from between 15 and 30 minutes after you have applied the sample, depending on which type of test you have used. There is no need to send the sample to a lab.
How to interpret the results
Image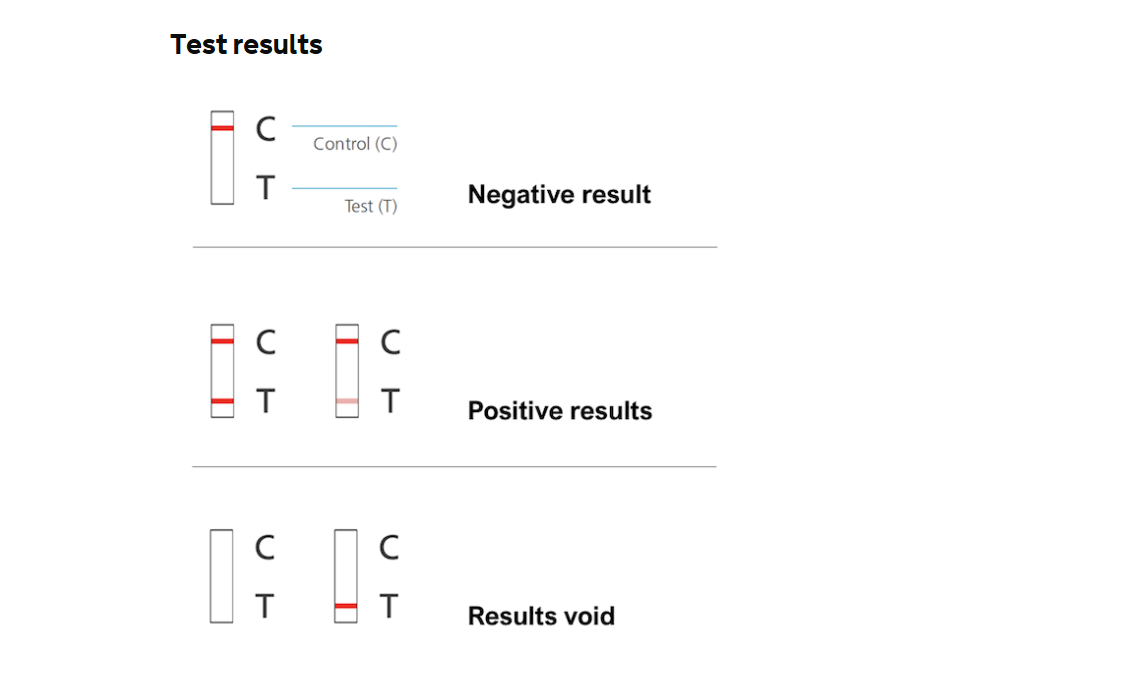 Negative result: 1 line next to C
Positive result: 2 lines, 1 line next to C and 1 line next to T
Even faint lines mean that your test is positive for COVID-19.
You or your test provider must report this test result (positive or negative) to the NHS.
Void:  No lines or 1 line next to T. This means the test is invalid. Re-take the test with a fresh test kit.
A negative result does not guarantee that you do not have coronavirus. The test might not detect the virus if you were recently infected or are in the incubation at the time of the test.
You must continue to follow coronavirus rules, including:
regular hand washing
wearing face coverings where required
What to do if you have a positive lateral flow test result
Report your lateral flow test results
You need to report the results of all free tests within 24 hours, whether positive, negative or void. 
Report your results on GOV.UK or by calling 119. (Croesawir galwadau yn Gymraeg / Calls are welcomed in Welsh).
Lateral flow testing is currently being offered free of charge if:
a doctor or specialist has said you're eligible for new COVID-19 treatments
your GP or healthcare professional asks you to take a test
If you wish to use LFTs and are not eligible for free tests, you can purchase them from various retailers.
If you buy a private test you should not report your result on the GOV.UK website. Some private providers may have their own systems to report results. If you paid for a test, check the test kit instructions to see if you should report your results to the private test provider.
How accurate are lateral flow tests?
How sensitive are the tests?
The lateral flow tests cannot detect very low levels of coronavirus in a sample. This means if you have only recently been infected, are in the incubation period, or if you have mostly recovered, the test may not give a positive result.
Test sensitivity for lateral flow tests is also dependent on the person who does the test. Training and regular use helps to mitigate this as people become more proficient in using lateral flow tests.