Talk about organ donation: Murray Beehan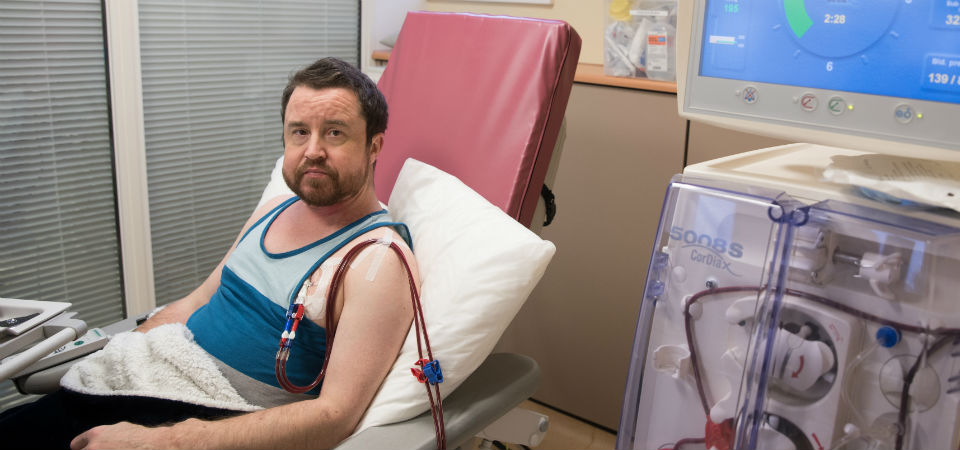 After three transplants, a Builth Wells man could face a lifetime of dialysis
Murray Beehan, 31, has struggled with bouts of ill-health his whole life, now after three failed kidney transplants, he could face a lifetime on dialysis.

After suffering kidney failure at birth, Murray's parents were told that his chance of survival was low. Against all odds, Murray survived, and was treated with peritoneal dialysis to keep him alive and a special diet to help support his growth.
Following his multiple kidney transplant failures, Murray's parents had a dialysis machine plumbed in at their home in Builth Wells and were taught how to perform the treatment for their son.
Now at the age of 31, Murray is back on dialysis, traveling to Llandrindod Wells hospital three times a week to receive treatment which takes between four and five hours per session.
Murray said:
"I was devastated when I was told that my transplant kidney has failed again, I really felt like I was back to square one. But, I suppose it's like a machine, and unfortunately, it's worn out.
"After each dialysis session I feel drained and often get headaches. But, it is the thing that's keeping me alive and so I am thankful for it.
Murray continued:
"When I was born my mum was told that I wasn't going to survive. Now at 31-years old, I've achieved so many things I never believed I would – I graduated from Cardiff University, I competed for Team GB&NI in the Transplant Games as a swimmer, I qualified as a financial advisor, gained full-time employment, and fell in love.
"I am so grateful to the donors and their families. It's down to those people who had the chat about organ donation and allowed their loved ones' organs to be donated that I've been able to lead the life I have for the past 26 years."
Your organ donation decision shouldn't be a guessing game
Make a decision, register it, tell your family.