Information on age and sex of casualty, type of road, speed limit and time of accident for 2016.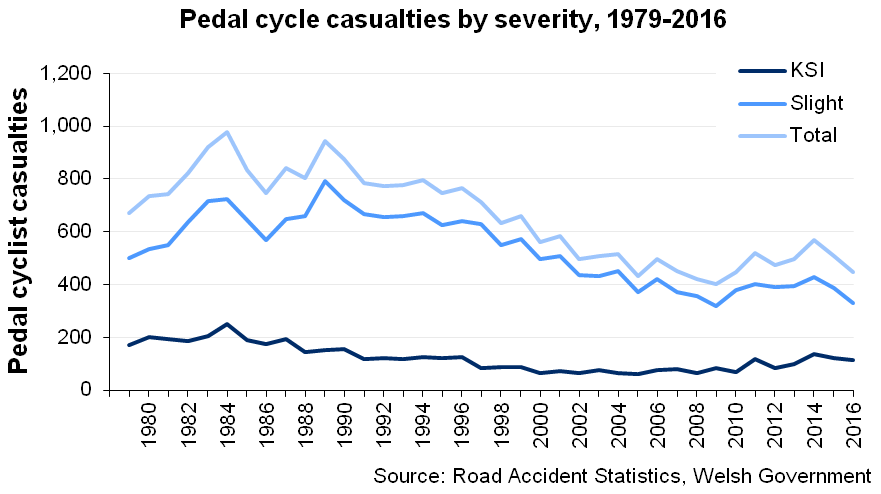 Main points
Between 2000 and 2010, killed or seriously injured (KSI) numbers have fluctuated between 61 and 84 casualties per year, and increased to 118 casualties in 2011. Latest figures, for 2016, show a slight decline on 2015 to 115 KSIs.
Men comprise the majority of pedal cyclist casualties; over the whole period from 2007 to 2016 they accounted for 86% of all casualties.
In 2016, those aged 30 to 49 formed the largest group of pedal cyclist casualties, accounting for 39.6% of the total.
Child pedal cyclist casualties fell by 61% between 2007 and 2016, from 155 in 2007 to 61 in 2016. Over the same period child KSI casualties fell from 33 to 10.
The proportion of all KSI pedal cyclist casualties that were children dropped from 41% of all KSI casualties in 2007 to 9% in 2016.
Reports
Pedal cyclist casualties, 2016
, file type: PDF, file size: 841 KB
PDF
If you need a more accessible version of this document please email
digital@gov.wales
. Please tell us the format you need. If you use assistive technology please tell us what this is.
Data
Datasets and interactive tools
Contact
Statistician: Ryan Pike
Rydym yn croesawu galwadau a gohebiaeth yn Gymraeg / We welcome calls and correspondence in Welsh.
Media
Rydym yn croesawu galwadau yn Gymraeg / We welcome calls in Welsh.