Blaenau Gwent County Borough Council plans for a 40% agile workforce.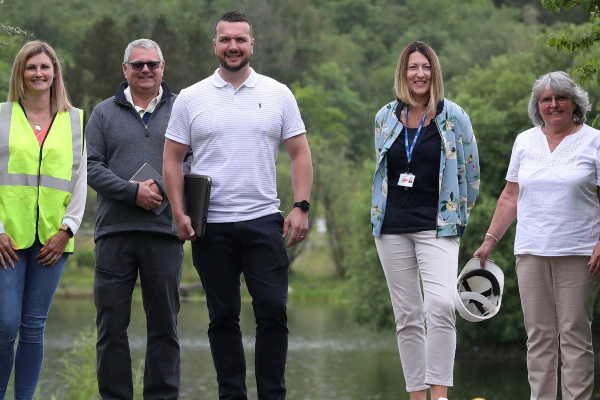 Blaenau Gwent County Borough Council is planning to revolutionise its working practices with an estimated 40% of its workforce expected to work remotely, at least some of the time, moving forward.
Such is the confidence that agile working and working from home will be a positive shift for the local authority, that plans are already in place for the permanent closure of its civic centre.
Significant steps towards an alternative way of working had already been established by the council five years ago, when a leadership exercise resulted in a scaling down of their office-based structure.
Michelle Morris, managing director at Blaenau Gwent County Borough Council, explains:
"Since the re-working of our office spaces in 2017, we have moved away from a traditional model of everyone having their own desk, to working on a ratio of seven desks to every 10 people.
A home working policy had enabled only eight people to work from home full-time prior to lockdown. The urgency of the national restrictions meant that the council had to move quickly to enable a much larger number of staff to work from home effectively.
Michelle said:
"We soon learned that the typical valleys terraced house is not always ideal for people working from home as they aren't built with the likes of studies. When you add children, who are being home-schooled into the mix, it did prove problematic at times. That's why our workforce had the option, with a full risk assessment, of going into the office if they couldn't manage at home.

"Overall, people responded positively and embraced the challenge of a new way of working. We have learned along the way, for example dealing with concerns about confidentiality, so we encouraged people to use headphones for meetings, which helped.
The health and well-being of Blaenau Gwent council staff was a priority for senior management. A staff survey checked in on how people were feeling, with regular one-to-ones between managers and staff to add a personal touch. Investment in well-being was paramount with a bulletin every week and mental health seminars and training to help all employees spot signs of domestic violence.
The council also worked closely with trade unions in workforce- related decision making.
In June 2020, just a few months into the first lockdown, the council initiated a new leadership exercise to investigate how working from home and agile working may roll out in the long-term, based on the premise that staff performance should be measured on outcomes, rather than people's presence in an office. As a result of this exercise, significant changes are being made by the council.
Michelle said:
"We recognise Welsh Government's vision for a future public service workforce, and we have an opportunity to learn from the accelerated change introduced by the pandemic.

"As an organisation, we should always be looking to move forward and that must be by developing a 21st century, culturally prepared, skilled and equipped workforce, which is both connected to the community and able to respond to change.

"Fewer buildings, and the creation of more effective workspaces, will offer a smart and agile work situation, with digital at its core.

"People will continue to need to get together, but we are being creative on how this is achieved. There's no reason why small groups can't meet in a local coffee shop or do walking meetings in some of our scenic spaces. By building in this sort of flexibility, we will make significant inroads into our aim to become carbon neutral, and that is only going to help our on-going drive for efficiency.
Blaenau Gwent's County Borough Council's agile working arrangements will require a contractual change for its workforce and will place its staff in one of three categories:
Homeworker: where home is the base with no need to access the office on a regular basis.
Agile worker: where the individual will split time between home and office working.
Service worker: where the service an individual provides is delivered from a dedicated building. This could include school cooks or refuse collectors.
Michelle said:
"Of course, we appreciate that this is new and things will evolve with learnings along the way. One thing that we are clear on is that the post will be categorised, not the person.

"This means that, for those who are unable to work from home, there is still the option to be office-based. As part of the Agile Working Policy, there will be payments for staff working at home to support with costs, such as heating.

"We are also aware that keeping a team connected and training new recruits will be areas that will need a different focus, but lockdown has taught us that people can adapt quickly when they are empowered to do so."