Supporting Black, Asian and Minority Ethnic communities throughout the pandemic and beyond.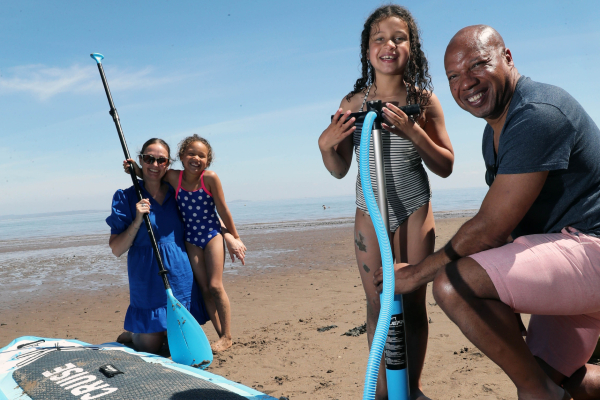 For Race Equality First, the COVID-19 pandemic didn't just have a huge impact on its staff, but those who rely on its services, too.
The charity, which over the last 45 years has built itself up to be the lead body in South Wales for tackling discrimination and hate crime, operates from Cardiff Bay. The team had never previously worked from home, something the chief executive officer, Aliya Mohammed, admits created some initial headaches.
"We're a small, close-knit team who had always relied on face-to-face interaction and meetings, so moving to what felt like a more isolated method of work was a culture shock, she said.

"However, beyond some teething problems with video conferencing programmes, we were able to quickly thrive working remotely – a testament to the adaptability of our team.
While the workforce soon saw the benefits of remote working, a much greater challenge faced the very people the charity supports. Much of Race Equality First's work is helping Black, Asian and Minority Ethnic individuals who have been victim of hate crimes, signposting them to support services and advocating on their behalf if they want to go to court. The charity also assists those who are suffering financial hardship 
to help them secure funding to get food vouchers, digital equipment and other essentials.
The impact of COVID-19 only served to exacerbate these issues. Many Black, Asian and Minority Ethnic people work in precarious or low-paid work and were the first to feel the impact of the economic shutdown. Coupled with the abrupt switch to home-schooling – with many families struggling to afford the necessary technology for their children – there was a sense of panic in these communities, which led to Race Equality First seeing a huge uplift in calls for urgent support.
Aliya continued:
"Many of the communities we support are digitally excluded, either through limited access to devices or high-quality  Wi-Fi, or a lack of skills. Meetings that we used to hold in person were now held virtually, but with many willing, yet unable, to join – in one instance we had 43 out of 45 attendees not attend due to technical issues – it posed a real challenge. Topics that could be covered in one meeting were now being discussed with individual beneficiaries over the phone on a case-by-case basis, which became an especially time-consuming task for our team.
This wasn't the only reason behind the surge in calls and emails for the charity. The murder of George Floyd in June 2020 –  and the subsequent protests across the world – led to various organisations contacting Race Equality First for virtual diversity training, yet another service the team provide. Prior to last year, the charity would usually receive a handful of training requests a year, but it saw more than 100 requests in the last six months of 2020 alone, as organisations sought to be more inclusive and aware of race-related issues.
But how do you manage this seemingly exponential growth in requests without risking volunteer and staff burnout while working from home? Aliya knew flexibility was key.
"Staff welfare has been a  top priority throughout the pandemic, especially during the anxious weeks and months of the first lockdown," she said.

"Without the opportunity for a 'water cooler' chat, I encouraged staff to keep conversations going on WhatsApp or to make a simple phone call when they needed to talk things through. I think having a small team made this less formal approach more viable. 

"A flexible approach to working hours was crucial, too. Some days are inevitably busier than others, but the lockdowns have allowed us to take a step back and work smarter. Rather than sticking to 9-5, 
I was comfortable for staff to work the hours that suit them best on a day-to-day basis to reflect the ebb and flow of their deadlines – rather than think they have to be 'always on'.
Moving forward, Race Equality First will adopt a hybrid working policy from its Cardiff office, consulting with staff to understand what suits them best.
Aliya added:
"Despite our small team, there are a wide range of views on returning to the office. For some, working from home is not a long-term solution, either because of their living arrangements or simply because they thrive 
in the office environment. However, for others, the lack of daily commute enables them to enjoy more downtime, so that they can embrace long evening walks and other outdoor pursuits with their loved ones.

"Having this flexibility is going to be crucial if we are to work effectively throughout – and beyond – the pandemic.