Source Insurance's move to home working increases productivity.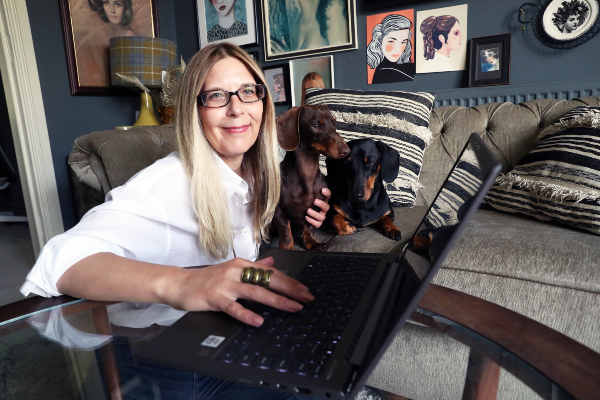 In February 2020, Source Insurance sensed that COVID-19 was about to change the working world, for a few months at least, and had begun making plans to accommodate change.
This meant the Cardiff-based insurance company, which employs around 90 people, was ahead of the curve when lockdown hit, having stocked up on much of the IT hardware that would ensure its customers were not affected adversely by staff working from home.
The change from office to home-based working didn't come without its challenges, however. The process required a phased approach with frontline staff equipped initially with the technology to work from home. In some cases, this involved reconditioning old laptops and even meant senior managers giving up their laptops and working from their phones temporarily.
Within two weeks of lockdown, more than 90% of the Source workforce was working from home not only with the right technology but also with good desks and proper office chairs, all couriered by the company to the homes of its employees.
Tania Frowen, managing director at Source, said:
"Pre-pandemic, we had been guilty of assuming that everyone needed to be office-based to work effectively. That's because we thought technology was better centralised and that people needed to be in close proximity to work as a team. What we've realised is that this isn't the case and that working from home has actually increased our productivity."
Tania and her team put this down to the fact that all interaction between team members is now intentional as it's scheduled and purposeful. 
However, there was also a concern that the lack of spontaneity and human interaction could bring its own problems. As the health and well-being of their team was a key consideration, Source scheduled a programme of communications to keep people connected which included Zingo (Zoom bingo), a book club and a chatty newsletter.
Source was also keen to carry on recruiting through lockdown and adapted their recruitment strategy accordingly to the point of creating guidance for applicants giving them tips on how to interview well online for insurance jobs that were initially home-based. New recruits, who could no longer get to know colleagues personally, were given 20-minute zoom meets with colleagues, including a 'Meet The Director' slot.
The shift to working from home has meant a significant financial investment for Source and it's one of a number of reasons why they are looking at a hybrid way of working when restrictions ease. 
Tania added:
"We have consulted with staff through a  number of surveys and we've concluded that people want a logical reason to come in after the pandemic. We'll be adopting a model of three days at home and two days in the office in Cardiff but coming into work will be different because it will be for meetings and team building. We know our staff don't want to come in and just sit at a laptop when they can do that at home.

"Our policy is to give people the flexibility to determine where they are at their most productive and least stressed – a freedom to choose the environment that suits them best. The pandemic has changed people's lives and lifestyles. People are liking the fact that the school run is more manageable or that they can be at home for their lockdown puppy rather than having to pay for doggy day care all the time. It's important that we respond to these wants and needs for the good of the company and our team."