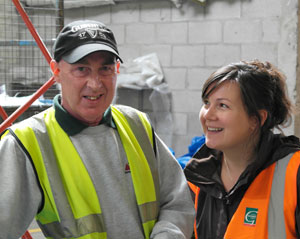 Antur Waunfawr is a leading social enterprise which provides employment and training opportunities for people with learning difficulties.
Established in 1984, it celebrates its 30th birthday in 2014. The company employs over 60 service users and a 100 members of staff and has an annual turnover of £2.1m.
'Antur' provides a variety of work experience to its service users: catering/hospitality in the café, gardening/food production on its 7-acre plot, creative input in its craft shop, selling and sorting clothes, renovating and selling furniture in its warehouse and dealing with recycled waste and confidential waste in the recycling factory, in addition to administrative tasks in the main office.
'Antur' works hard to integrate within and enrich the local community. It hosts a number of annual events (May Festival and a Christmas Festival) where all the villagers of Waunfawr and the vicinity are invited. 'Antur' plays an enormous role in the lives of many people. Its projects have a positive effect on the area and Antur has been warmly embraced by the local community.