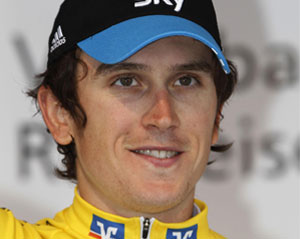 Cardiff's Geraint Thomas is a double Olympic Gold medallist, winning his medals as part of the GB Cycling Team Pursuit team at the games in Beijing in 2008 and London in 2012, the team setting a new world record in the process of winning the Gold in London.
A key figure in the success enjoyed by British cycling over recent years, he overcame a serious accident early in his career that led to his spleen being removed. He has achieved success in both track and road cycling, having completed the Tour de France 4 times and the Giro d'Italia twice, as well as winning the track Team Pursuit World Championship on 3 occasions.
He won a Bronze medal for Wales in the road race at the 2006 Commonwealth Games in Melbourne, before taking part in his first Tour de France in 2007 as the youngest competing rider, becoming the first Welshman to compete in cycling's blue ribbon  event for almost 40 years. Geraint suffered a broken pelvis in a crash in the early stages of the 2013 Tour de France, but still managed to complete the tour. He was awarded the MBE in 2009.