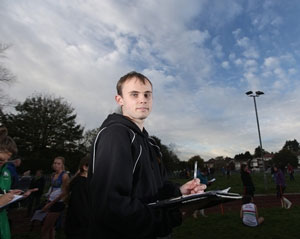 Nathan is an 18 year old who has dedicated hundreds of hours over the past 3 years to volunteer at Carmarthen and District Harriers Athletic Club.
He has been involved almost every weekend within the last 2 years as an assistant team manager for Carmarthen Harriers athletics, cross country, road relays and sports hall athletic teams.  He has also volunteered with Dyfed Schools and West Wales athletics and cross country teams.
In 2012 he qualified as a track officiating official and acts as a track official and marksman at Welsh athletics competitions. In 2013, he was the senior boy's junior team manager for Carmarthen Harriers.
Although Nathan is too young to qualify as an athletics coach he has been assisting on 2 evenings a week with the coaching of very young athletes with Amman Valley Harries in Ammanford. Nathan also volunteers for administrative duties and is the website manager for Carmarthen Harriers.
On 26 October 2013, he won the Welsh Athletics Volunteer of the Year Award.