Sgt Gareth Davies and PC John Harrison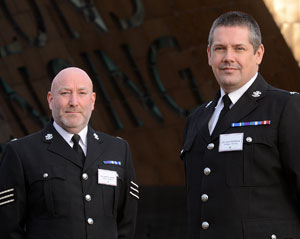 On 29 May 2012, North Wales Police control room received a call from Council staff at the Guild Hall in Wrexham stating that a male had entered the building with a bag containing a bomb.
Sergeant Gareth Davies was in the area and attended the location to assist with the evacuation and area search for the suspect. He was joined by Acting Sgt John Harrison and they were informed that the male had left the building. Intending to assist with the evacuation, the officers opened the door to the council chamber. As they opened the door, they were faced with the suspect pointing a handgun in Sgt Davies' face at point-blank range.
The officers acted quickly and shouted clear commands to the suspect who continued to hold on to the gun. They managed to overpower the gunman and arrest him. The officers were then assisted by 2 other officers and the suspect was restrained and arrested. The suspect package was later discovered to be a 'dummy' bomb.