Data on medical, dental, nursing and midwifery staff, as at 30 September 2019.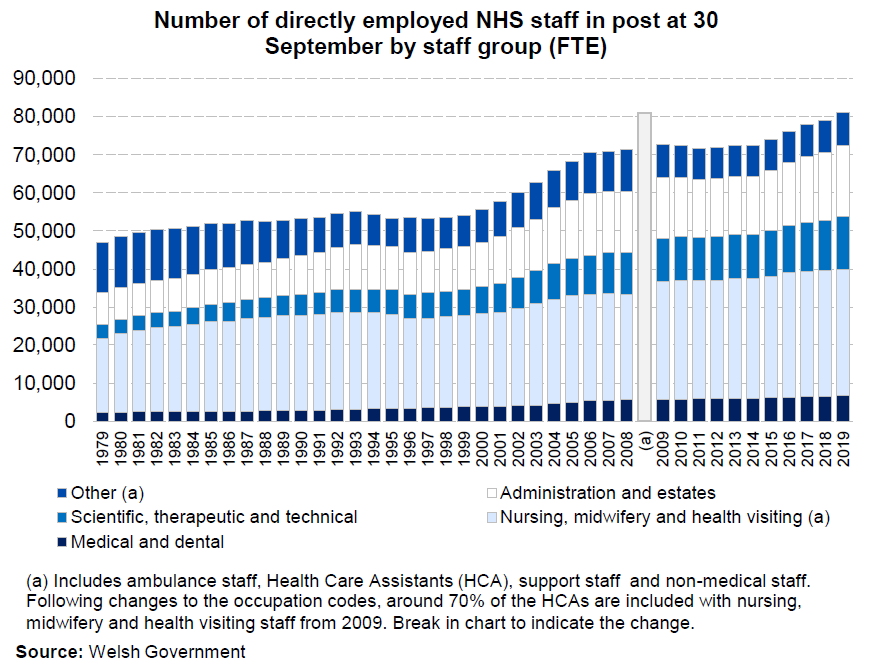 Between 30 September 2018 and 30 September 2019 (in terms of full-time equivalent numbers)
The total number of directly employed NHS staff increased by 1,990 (2.5%) to 81,044.
Medical and dental staff increased by 153 (2.3%) to 6,693.
Nursing, midwifery and health visiting staff increased(r) by 373 (1.1%) to 33,301.
Scientific, therapeutic & technical staff increased by 571 (4.3%) to 13,777.
Administration and estates staff increased by 792 (4.4%) to 18,687.
(r) Revised 02 March 2020
Notes
A number of data quality issues have been identified with the data for this release. This mostly affects some of the more detailed staff breakdowns. Full details are provided in the statistical report.
Alongside this annual report we are publishing for the first time quarterly staffing data from December 2018. This data will be published quarterly going forward to better meet the needs of users with timelier data.
Reports
Staff directly employed by the NHS, 30 September 2019
, file type: PDF, file size: 685 KB
PDF
If you need a more accessible version of this document please email
digital@gov.wales
. Please tell us the format you need. If you use assistive technology please tell us what this is.
Data
Datasets and interactive tools
Contact
Bethan Sherwood
Rydym yn croesawu galwadau a gohebiaeth yn Gymraeg / We welcome calls and correspondence in Welsh.
Media
Rydym yn croesawu galwadau yn Gymraeg / We welcome calls in Welsh.