Apprenticeships: Andrew's story
Apprentice secures promotion at work thanks to the genius decision to choose an apprenticeship to increase his workplace skills.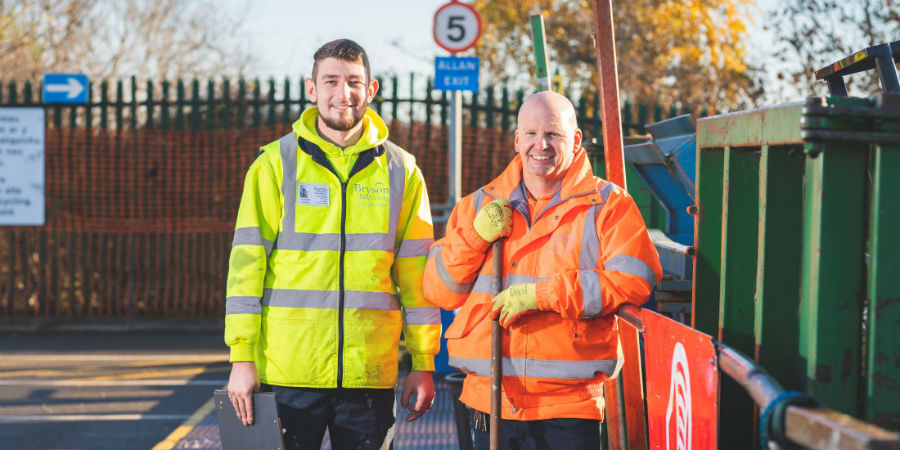 Andrew Bennett, 51, from Kinmel Bay in North Wales, found a new start at Bryson Recycling. Andrew is dyslexic and has a sight impairment, meaning he's blind in his left eye but that didn't stop him studying towards his Level 4 qualification in Waste Management. Andrew said:
"When I first started, I was worried that my eyesight would be a barrier working in a complex environment, but it hasn't been an issue. Day-to-day, my role is really varied and no two days are the same. I find that I prefer learning on the job as it suits my personality, and I like the hands-on elements of training on-site.
Tailored support
All apprentices, like Andrew will receive the one to one support they need to succeed during their apprenticeship. Due to his sight impairment Andrew was supported when reading through administrative documents and was given extra time to complete the written elements of his studies.
Andrew continued:
"For others who are considering the different routes into work, my advice would be to consider apprenticeships. My employer has been supportive with my disabilities and the role is rewarding as you can learn all the skills you need while earning a wage and getting relevant, interesting experience."
Recruitment drives supporting the community
Bryson Recycling, the UK's largest social enterprise recycler, expanded into North Wales in 2005 with the aim of improving responsible waste management and offering long-term employment to staff of all ages from a variety of backgrounds. 
Dan McCabe, Site Supervisor at Bryson Recycling, said;
The fact that we can give back to the community by offering people a second chance is a real bonus to our team. 

Andrew has become a real asset to the team, and it's been really refreshing to have such a keen apprentice rise through the ranks and progress so quickly.

When we talk about our apprentices many people assume we're talking about school leavers, and so we're always quick to point out that apprentices can be any age. Andrew's life experience helps him relate to customers and staff, and finding his career later in life seems to have given him a burst of motivation to work hard and prove that he can achieve anything he puts his mind to."