Apprenticeships: Cameron's story
Engineering apprentice has what it takes to work under pressure.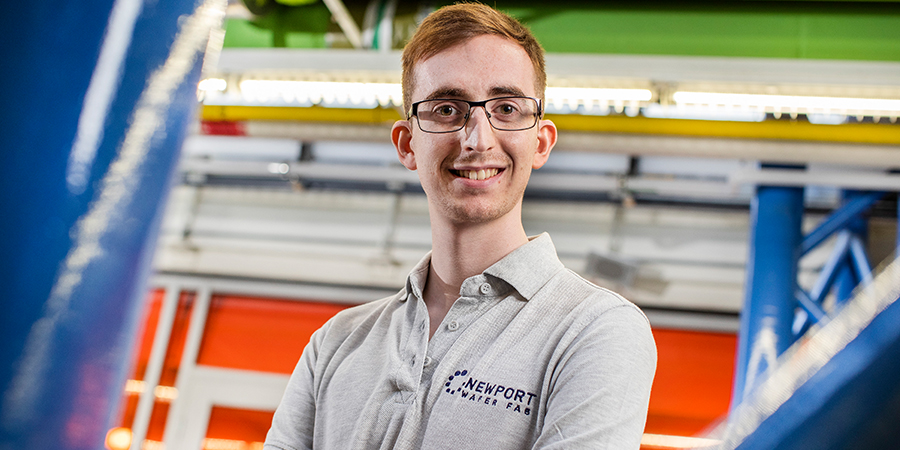 A 22-year-old electrical engineer credits his apprenticeship, and the practical experience this offers, with developing the skills needed to work well under pressure.
Cameron Williams, from Neath, is working at semiconductor manufacturer Newport Wafer Fab while completing his apprenticeship with Coleg y Cymoedd. 
Combining theory and practice
Cameron chose to pursue the apprenticeship route in order to gain the real-life experience alongside training and believes without it, he wouldn't truly understand the complexities that come with the job.
He said:
"Working on site gives you a real respect for what could happen if you make a mistake on the job. You know, through learning the theory, that engineering has the potential to be hazardous, but it's only when you can feel the 1000 degree heat from the furnace, or handling strong acids, that you really understand how important the health and safety precautions are. My apprenticeship has provided me with the opportunity to develop that knowledge up front and means I can learn the skills needed to keep me safe, alongside the theory that is needed to do the job and have a successful career."
As part of his Level 3 Equipment Technician Apprenticeship with Newport Wafer Fab, Cameron works in a high-pressured environment. Engineers are responsible for keeping the machines and tools that are used to manufacture semiconductors running.
Cameron said:
"Like any manufacturer you have a series of tools and machines that all need to run smoothly for us to deliver the product on time to our clients. As equipment technicians we're helping the engineers responsible for keeping the machines going, running service checks and making repairs where needed. I'm really enjoying working with the tool owners on site, who each have around 20 years of experience in working with one specific machine. Learning from them means I benefit from that knowledge to make me a better engineer.
Specialisation
"As part of my apprenticeship I work on rotation between the areas of the fabrication unit,  meaning I get to spend a good amount of quality time with an engineer at each stage of the manufacturing process before choosing the two areas that I want to specialise in.

"The knowledge gained through my apprenticeship so far has given me a rounded view of electrical engineering, which has put me in a great position to pursue my dream of becoming an engineer. I want to go on to do a Degree Apprenticeship in Engineering and knowing that it's funded makes it seem more achievable, plus earning while I learn means I have the money to pursue my other passions like travel."
Make a genius decision and get ahead in your career with an apprenticeship
Whether you're finding your way in the world of work, or taking steps towards a career change, an apprenticeship could be for you.