Apprenticeships: Gino's story
Ensinger, a Tonyrefail-based plastics engineering company, has praised apprenticeships for transforming its business after creating its own "Apprenticeship School" - solving its skills shortage.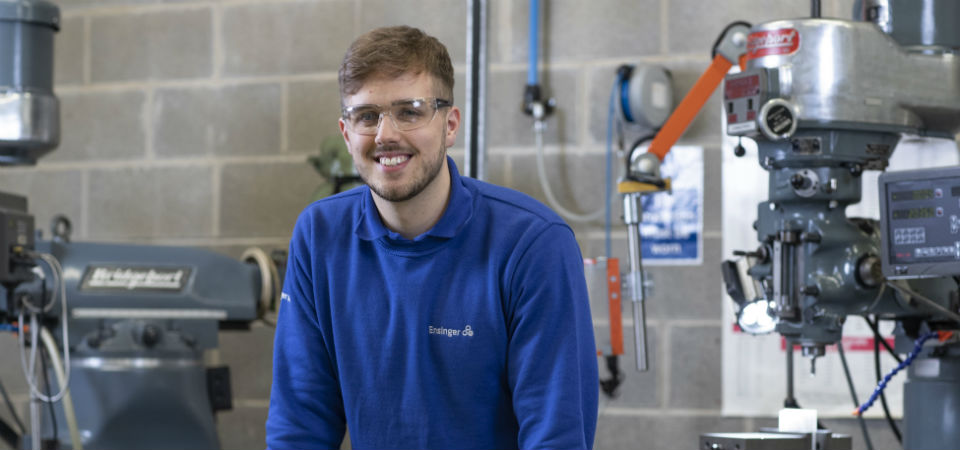 Wanting to find staff with the right skills for the business, Ensinger decided to recruit apprentices to improve employee retention and address a growing skills gap in the engineering industry.
Since opening its Apprenticeship School, Ensinger has been able to train eight apprentices, equipping them with the essential technical skills, as well as practical experience. 
Training passionate people
Gino Abramo, Apprentice Training Manager at Ensinger, said:
"Our staff have to be incredibly technically minded, as we need them to interpret complex engineering drawings and translate them into program code for controlling machine tools. 

"Having our own Apprenticeship School means that we can train people with a passion for engineering in a specific way to help produce staff with the exact skillset we require."
The company currently employs 12 apprentices across its Tonyrefail and Bridgwater sites, offering four-year apprenticeships in Mechanical and Manufacturing Engineering. 
Gino continued:
"As a business, we feel personality is just as important as qualifications, because we can teach a person everything they need to know about working on a machine, but you can't teach personality traits like a willingness to learn or being a team player."
Finding the ideal route
Level 3 Mechanical and Manufacturing Engineering apprentice, Kyle Stark, is in his second year of his four-year apprenticeship. 
Kyle, 21, said:
"I'm only in my second year and I've already learnt so much in that short space of time. Some tasks are challenging but we have lots of support and are encouraged to share our knowledge with the other apprentices, which is great for team building. 

My aim now is to finish my apprenticeship, and eventually I'd love to become a Senior Engineer." 
Make a genius decision and get ahead in your career with an apprenticeship
Whether you're finding your way in the world of work, or taking steps towards a career change, an apprenticeship could be for you.