Apprenticeships: Joe's story
21-year-old strikes gold with apprenticeship at Royal Mint.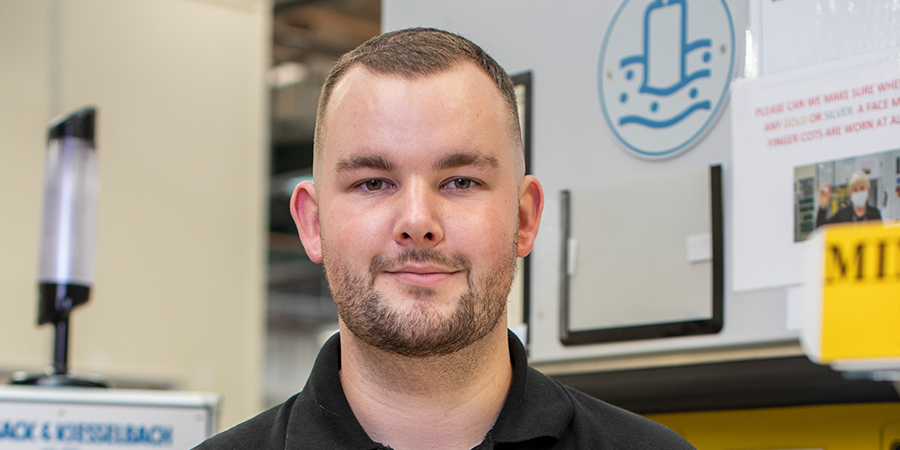 Joe Hopkins is an electrical engineering apprentice working at The Royal Mint in Llantrisant. About to enter his final year studying a Level 4 Apprenticeship in Electrical Engineering Joe has spent time in each of the historic site's four main departments: metal making, plating and treating, striking and making medals and commemorative coins.
Following in familial footsteps
He said:
"I've always wanted to go into engineering, my Dad was an engineer so I feel like it's in my blood. For me, after leaving school, it was just a question of the best way to gain the skills I needed in order to get started in the industry.

"My apprenticeship has given me a lot of practical experience and specific skills in the workplace and I also go to a specialist college, Newport & District Group Training Association, one day a week. I'm able to directly, and immediately, apply what I'm learning in textbooks and in the classroom to my work.

"In lots of ways what I'm working on isn't actually all that different to what a car mechanic might do, only I'm performing maintenance on something much bigger.

"Working at The Royal Mint is an exciting opportunity, and everyone there is so welcoming: always happy to give advice and support the apprentices by teaching us new things. You end up being taken under the wing of the managers and staff you work closely with, it's such a supportive atmosphere to develop and master your skills. As a business, it's incredibly diverse and it's exciting to see how minting techniques are constantly evolving and embracing new technology.

"I've worked on lots of different parts of the manufacturing line, which has given me a great understanding of the process as a whole, as well as on breakdown calls and general maintenance jobs. All the different departments work on a separate section of the coin making process, so the machines are very different too and that's given me a broader, better,  understanding of engineering and mechanics.
Making history
"In particular, I've enjoyed working in the medals and commemorative department because I get to see some of the most expensive, history-making, coins and medals up close. For example the factory line recently made a £1,000 gold coin featuring Elton John as well as a range of military medals. Although I'm still an apprentice I'm so proud to be a part of the process in creating these coins which will be remembered forever.

"I always wake up feeling positive about going to work, which is incredibly rare, and so much of that is because I love being able to apply my knowledge straight away and see the results; it's such a rewarding way of learning that I'd recommend an apprenticeship to anyone."
Make a genius decision and get ahead in your career with an apprenticeship
Whether you're finding your way in the world of work, or taking steps towards a career change, an apprenticeship could be for you.