Apprenticeships: Mathew's story
"My apprenticeship gave me a new focus after shielding during the pandemic".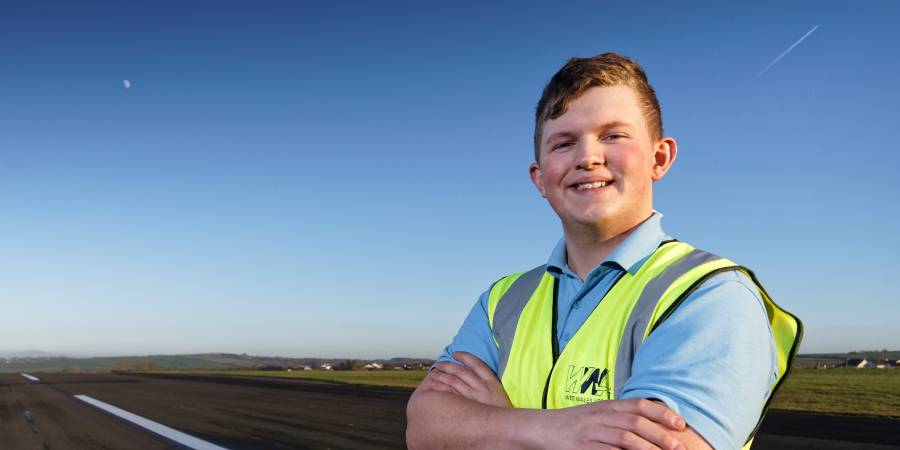 20-year-old Mathew Clark says his apprenticeship gave him a new focus in life after his career aspirations of joining the RAF were shattered due to a medical condition.
To mark Apprenticeship Week Wales 2022, he is now encouraging other young people in Wales not to give up hope of following their dream career.
The Level 2 Air Traffic Engineer Apprentice, who works at Ceredigion-based airfield West Wales Airport, always knew he wanted a career in the aviation industry.
"Since I was 10 years old, my career goal was to work in the RAF. I worked hard in school, but I knew I didn't want to go to university and wanted to join the military after I finished my exams.

"Things took a turn when I completed my A-Levels and was about to begin my training when I was admitted to hospital. I had to undergo an emergency operation which meant I'm now unable to join the military due to health reasons.

"Soon after this, the first Coronavirus lockdown hit. I was still recovering which meant I had to shield for 6 months. As an 18-year-old, about to step onto an exciting career ladder, I felt so demoralised knowing I couldn't leave the 4 walls of my home for months.

"Lockdown was tough, and my mental health deteriorated. I turned from thinking I could achieve anything to having no hope at all."
With delivery driver shortages because of the pandemic, Mathew applied for a job with a parcel delivery company.
"I worked as a delivery driver for 6 months during the second lockdown. I was grateful for the opportunity, but I always knew it wasn't going to be long-term.

"My mum then found an apprenticeship opportunity on Facebook with a local airport – I was surprised a unique opportunity like this came up in my local area, in an industry I longed to work in. I applied for it straight away and was lucky enough to get the position."
Mathew began his Apprenticeship with West Wales Airport, a centre for unmanned aerial system operations based in Ceredigion, in August this year.
"As an Air Traffic Engineer Apprentice, I'm responsible for maintaining the specialist equipment in the control tower, ensuring systems on site are running smoothly and completing daily checks on the radio system and the met station to make sure they're accurate.

"The skills and experience I'm gaining are quite specialised which is why an apprenticeship is a great path into the industry for me. 6 months into the role, the team already trust me to do some tasks independently and I'm also working towards completing an advanced course in equipment maintenance.

"My apprenticeship isn't just a job, it's a sustainable career path. The benefits are endless – I can learn from specialist professionals and receive hands-on practical training, all whilst earning a wage. Working at an airfield is pretty cool and I feel excited to go to work when I wake up in the morning. What more do you need?"
Looking to the future, Mathew is motivated to continue to develop his training:
"If I pass my training, I'm guaranteed a full-time role at West Wales Airport. Knowing there's security and progression in the job motivates me to continue to work towards my qualification.

"My advice to anyone out there who is looking to kickstart their career or get a new job is it's so important to stay positive. After finding out I couldn't join the military my aspirations were disparaged, but I was able to adapt and still follow the career of my dreams through my apprenticeship. It's enhanced my career and given me a focus, allowing me to eventually become specialised in the electronics field. I'd definitely recommend this as a career path to other young people."
Make a genius decision and get ahead in your career with an apprenticeship
Whether you're finding your way in the world of work, or taking steps towards a career change, an apprenticeship could be for you.