Apprenticeships: Nooh's story
Apprentice from Butetown who had never played rugby before wants to get more diverse communities playing the sport.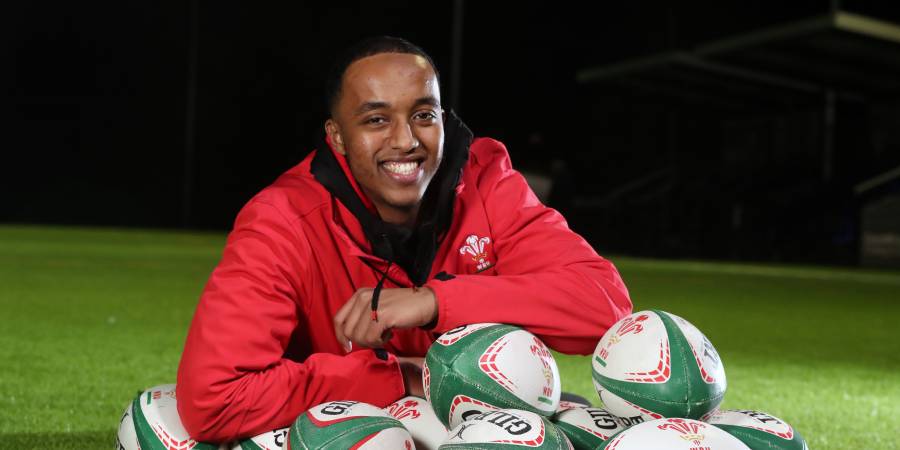 Cardiff-based apprentice, Nooh Omar Ibrahim, wants to create a new inclusive rugby community in Wales after falling in love with the sport during his apprenticeship.
Nooh, from Cardiff, has always relished sport, but unexpectedly landed in the field of rugby after struggling in college.
"When I was at school thinking about my next steps, I was encouraged to go for a job in IT, business or even science, like a lot of people. But when I went on to study these subjects at A-level, lockdown hit, and it really affected me. Two of my grandparents passed away at the same time, and I struggled to stay focused at college.

"I was a bit stumped and wasn't sure what to do with my life; I needed a new focus. I took a gap year and it made me question what I was passionate about. That was when I found an opportunity as a Rugby Development Apprentice.

"I'd never played rugby and knew nothing about the sport. Growing up in Butetown, I knew only a handful of people who understood anything about rugby. But I love fitness and I'm really active. Applying for this was out of my comfort zone but I was ready for a new challenge."
After submitting his apprenticeship application, Nooh was invited to attend a two-day pre-selection programme with other young people from across Wales.
"I was on the selection days with people who had been playing rugby since they were about 5 years old. I felt at a disadvantage, so I had to make sure I showed a passion for sport and coaching, and a willingness to learn and try new things. I was so excited when they offered me the job, and this motivated me to work hard in my apprenticeship.
The 12-month programme offers apprentices like Nooh a Level 3 Sports Development qualification as well as gaining new skills and on-the-job experience.
Since starting his apprenticeship, Nooh hasn't looked back and reflects on how far he's come over the past 12 months.
"My apprenticeship has given me the confidence to know what I'm capable of achieving - I just needed that push. If you're hard working and are willing to learn, you can accomplish anything. Look at me, this time last year I didn't even know what a 'ruck' meant, and now I'm a qualified coach, referee, and I'm working towards setting up a full rugby team in Grangetown and Butetown.

"For any young person thinking about their next steps, if any opportunity comes your way, be open and just go with it. My apprenticeship has helped turn my passion for sport into a career and I'm excited to see what my next challenge brings."
Make a genius decision and get ahead in your career with an apprenticeship
Whether you're finding your way in the world of work, or taking steps towards a career change, an apprenticeship could be for you.