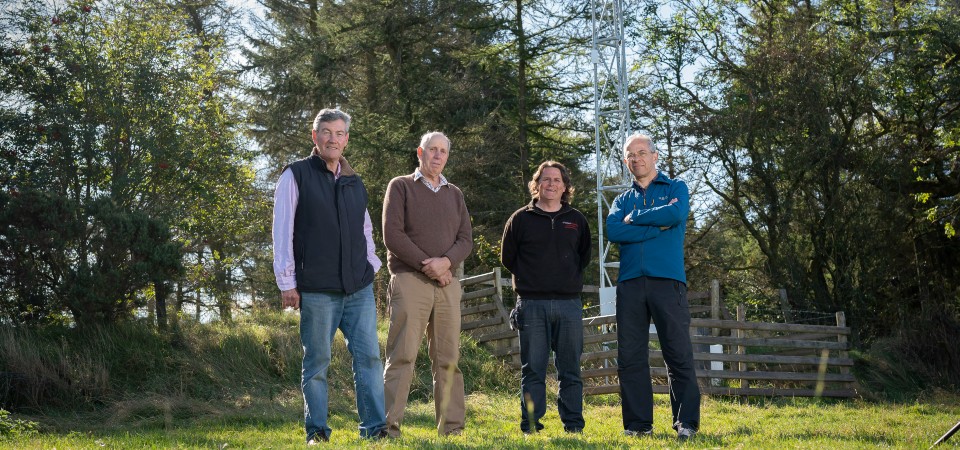 One of the best things to have happened to Crai for a very long time
Homes and businesses in the Village of Crai in Bannau Brycheiniog national park were struggling with broadband speeds of less than 1.5 Mbps. The community united to find a solution and are now enjoying speeds of up to 32 Mbps through fixed wireless broadband.
The Crai community came together through the management committee of their local village hall with the aim of finding a solution to their poor broadband speeds. The group investigated a number of different options including using TV whitespace and a community fibre broadband project. Eventually they decided on a Microwave Wireless broadband solution delivered by a local supplier.
Throughout the project the community were kept up to date via meetings in the village hall and through their local monthly publication Crai News. Over 80 premises in Crai are now connected enjoying speeds of up to 32 Mbps.
The community decided the best approach for the Crai wireless project was a supplier owned and operated model. This means that the infrastructure bringing superfast to the village is owned and run by the service provider, not by the community. This approach could bring challenges as the community has no management or operational control of the service. However, they have found this risk has been eased through good communications with the provider whenever issues have occurred.
The community successfully secured funding for the project from Welsh Government's Access Broadband Cymru scheme. Although the community did not need to contribute financially to the scheme many did in other ways such as giving up their free time to help and offering their expertise.
David Ross from Crai said
"If I were to give advice to another community looking to do something similar I would be happy to tell them that this approach has worked very well for us. The initial set up and getting sufficient numbers of households and businesses to sign up to the scheme was crucial to our success.  This was achieved by holding a series of open meetings in our community hall with the service provider to explain both how the potential service would work and the funding available from Welsh Government."

"We also found it very beneficial to have a working party sub group, set up separately from the Crai Hall Management Committee but reporting to them on a monthly basis. Having regular meetings with the appointed service providers also proved invaluable, together with having a community lead from the working group to act as a single point of contact when applying for funding and liaising with the service providers."

"As anticipated considerable benefits were immediately realised by our local businesses such as farms and holiday accommodation providers.  Other benefits soon became apparent with members of the community being able to work from home, where previously they had to travel to their offices.  Even people with businesses and main residences away from Crai saw a benefit, in being able to conduct their business from their holiday homes."
Benefits have been felt across the community from families whose children are now able to use the internet for their school work and households being able to use online shopping to order items which are unavailable locally.
Charles Weston, a farmer working across two sites in Crai as well as running a busy holiday accommodation business said,
"My working life has been transformed with the advent of Superfast Broadband to Crai. Having a fast internet connection makes administrative tasks so much quicker, and enjoyable."

"In particular the ability to send and receive photographs rapidly has helped tremendously, banking is quick and easy, and handling the correspondence that comes in every day is now very straightforward."

"My previous internet speed was 0.4 Mbps but this has now increased to 30 Mbps. This is without doubt one of the best things to have happened to Crai for a very long time.
Get faster broadband
Broadband is a way of connecting to the internet. Regardless of the speeds you need, there are options and support available to help you.