The Community of Michaelston-y-Fedw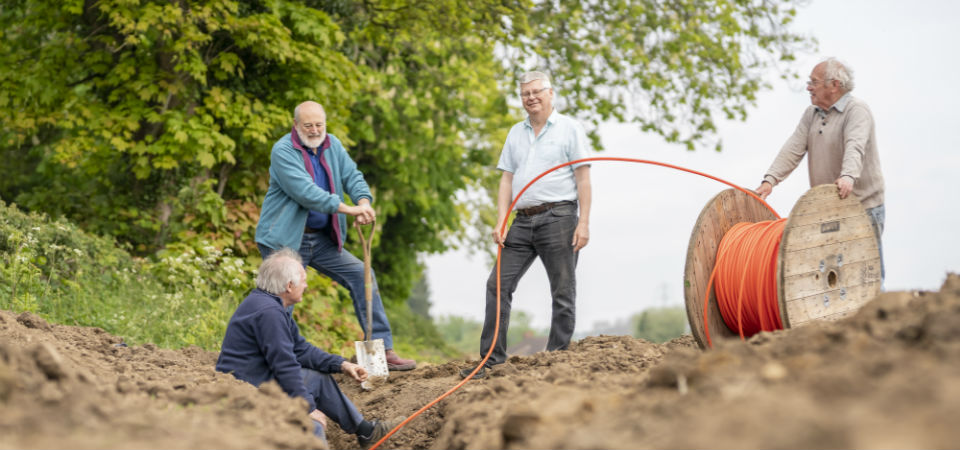 Working together brought the community together.
With internet speeds averaging 4Mbps, villagers in Michaelston y Fedw decided to build their own broadband network. The community project brought ultrafast Fibre to the Premises (FTTP) broadband to residents and businesses. Villagers can now enjoy upload and download speeds of 1Gbps or 1000Mbps.

The community project employed contractors to do some of the work, while teams of volunteers have taken part in many of the activities. This includes digging chambers, fibre splicing, laying out ducts and fitting out the village's communications hub. So far, almost 200 premises are connected.

The network is community owned and operated. Villagers raised the money needed to build the network and connections were then funded through the Welsh Government's voucher schemes. This is one way for a community to fund a connection; there are other models that can be used to set up a community led broadband project.

David Schofield a director of the Michaelston y Fedw Internet Community Interest Company said:  
"What started as a conversation in the pub about broadband in the village quickly moved on to a public meeting of around 70 people in the Village Hall. Having a strong level of interest gave us the confidence to move on with planning how we could make this work. More public meetings were held and we chose to form a Community Interest Company. Five directors were appointed and we came up with the name MyFi.

"We decided to go for Fibre to the Premises (FTTP) broadband technology as we wanted something that was as future proof as possible. One of the challenges was understanding what we needed to do as there was so much involved; router choice, fibre choice, access chambers, splice bullets, splice machine, blowing machines, road crossings, ducts, IT, wayleaves (a right of way granted by a landowner), selecting a place for our hub, the list goes on.

"Our neighbours were placing their money and a lot of trust in us so we made sure we held regular meetings, weekly at first and then fortnightly which kept everyone informed and interested. Working together brought the community together and it is not just about work as most days ended up at the local pub and this helped everyone pull together and get to know each other better.

"This has been achieved through a huge amount of effort by local volunteers who have turned out in all weathers to help build our network. Without them, the support of landowners, the village hall, local investors and the Welsh Government grant schemes this would never have got off the ground. Farmers and landowners have been fantastic. One thing I can say is that everyone we have asked has given a free wayleave, which is quite remarkable. Between the volunteers and the free wayleaves provided by land owners, the cost savings have been dramatic. We now have internet speeds that are world class, and this makes all the effort worthwhile. It has brought the community much closer together.

"We have already given a lot of advice to other communities, not just in Wales but UK and worldwide. For any other community in Wales trying to do the same thing we already have most of the answers to the questions they need to ask. More than anything they need a small group of dedicated people to drive the project forward".
Get faster broadband
Broadband is a way of connecting to the internet. Regardless of the speeds you need, there are options and support available to help you.